HORSEMAN'S HANGOUT RIDE CLUB SATURDAY'S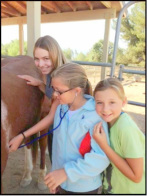 As a student, whether child or adult, you will learn to develop a non-resistance approach with horses to encourage curiosity and willingness. This approach ultimately leads to gentle, caring animals that are a pleasure to be around and ride. You will earn the horse's trust through hands-on care, handling, riding, and training. You will learn how horses think and react and how to operate safely around them. You will grow to be supportive and look or positive changes in fellow students in a positive learning environment with a unique and fun motivational reward system.
Our developmental program can accommodate a variety of levels of experience which allows beginners and intermediates to work and grow together within the same sessions. Here are some of the benefits of joining Horseman's Hangout Riding Club.
Riding
Building Core Balance
Self Confidence
Team Building
Ground Skills
Horsemanship
Unforgettable Memories
Extraordinary Results
Anxiety & Resistance Free
Friendly Horses
Parent Child Bonding and Team Building
Our riding club meets one Saturday per month. We have three clubs to choose from that vary in ages. In order to keep our ride club prices low, parent participation is required. This will also allow for parent child team building and bonding time. See details below:
---
HORSEMAN'S HANGOUT RIDE CLUB SATURDAY'SOPEN TO AGES 8 & UP
First Saturday of each month9:00am-12:00pm
ADD TO CARTCOST: $60 PER PARTICIPANT$110 FOR 2 SIBLINGS (SAME FAMILY)

---

HORSEMAN'S HANGOUT RIDE CLUB SATURDAY'SOPEN TO THE RANCH CHURCH
Second Saturday of each month9:00am-12:00pm
ADD TO CARTCOST: $60 PER PARTICIPANT$110 FOR 2 PARTICIPANTS FROM THE SAME IMMEDIATE FAMILY

---
---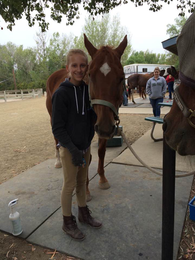 HORSEMAN'S HANGOUT RIDE CLUB SATURDAY'SOPEN TO ADULTSCall or email for schedule
ADD TO CART
9:00am-12:00pm
COST:$60 PER PARTICIPANT
---